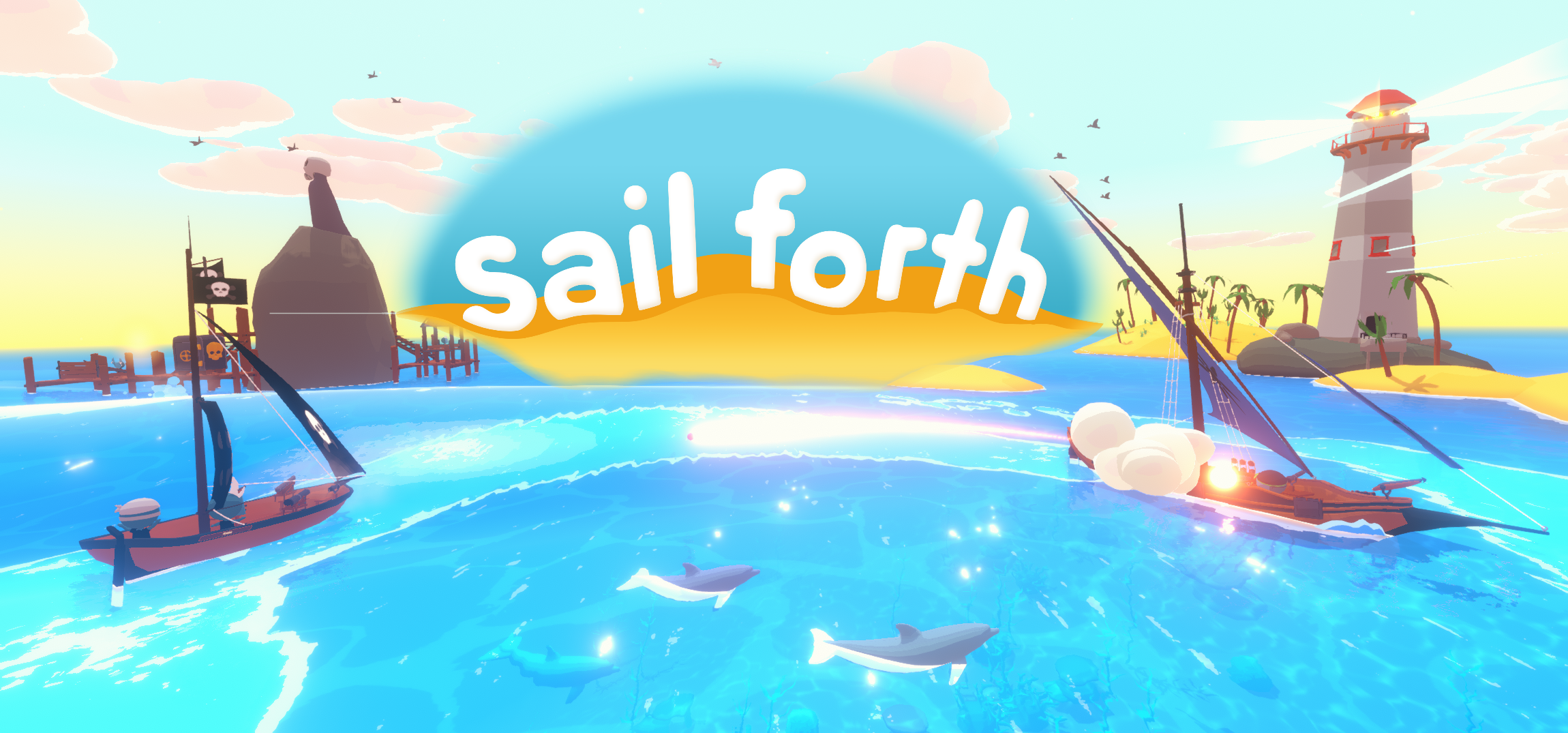 Factsheet
Developers:
David Evans
Based in Seattle, Washington
Publisher:
The Quantum Astrophysicists Guild
Based in Seattle, Washington
Release date:
TBD
Website:
sailforthgame.com

Press / Business Contact:
press@qag.io

Social:
twitter.com/sailforthgame

Platforms:
Steam (PC/Mac/Linux) Nintendo Switch Playstation 4 Xbox One
Languages:
English, French, Italian, German, Spanish, Hungarian, Dutch, Portuguese, Russian, Turkish, Czech, Swedish, Norwegian, Danish, Finnish, Polish, Japanese, Simplified/Traditional Chinese, Korean, and Thai
Description
Heave! Fake the bull rope and stay the mizzen royal! Command a fleet of custom-rigged sailing ships on a procedurally crafted adventure over an unending ocean whose ancient depths have swallowed the key to a planet's mysterious past. The Deepblue calls with the bellow of High Adventure! Sail Forth!
Experience the Deepblue!
Put the wind to your back and cast out into High Adventure over a vast ocean spanning numerous unique regions, each packed to bursting with its own flora, fauna, and ambient music.
Make chase with a pod of curious dolphins, watch the sun sink into an icy horizon, run down a clutch of cowardly privateers and accept their apologies to the tune of wild cannonry.
Your sails are filled to billow and you're nosing into countless possibilities.
Fathom a Mystery!
It's said, by some, that the Deepblue was once an endless breadth of sand and steel and tall-tops and glitter-brittle, and that the ocean's weight belched up from the smoulder and crush of an ancient secret, an Iron Maelstrom, a Famine of the Sky.
What will you uncover on your cut across the crest and baffle of the 'blue? Will your adventure win you answers? Will you discover the riddle of the sea?
Fire All Guns!
Cry havoc! Man the round shot and let scream the demi-cannon!
Buy, equip, upgrade, and modify your ships' armament to suit your play-style.
There's war on the water, and it's up to you to outfit your ship and make ready to stove and shatter any pirate, privateer, or sea monster martial enough to shiver your timbers.
Ride the Wind!
Catch a bellow and feel the hearty push of full sails. Surge and sway with the rip and roil of rolling waves.
Tack and jibe and heave and cut with a ship and sea realized with enough attention to realistic sailing physics to keep a naval enthusiast engaged while remaining deeply accessible to everyone.
Casual or complex; how you Sail Forth is up to you!
Command a Fleet!
Why captain a single ship when you can marshal an entire flotilla?
Build, manage, and modify a custom cadre of unique and specialized vessels to match your own personality and play-style.
Make ready your sea-stance and take to water with a cannon-bristling clutch of wood, iron, canvas, crew, and ambition.
Re-Live Adventure!
Stay engaged with a replayable rogue-lite experience whose narrative is revealed through free exploration in an ocean-world of ever-changing discovery.
Lean into a chill sailing session or wage raging war on the cracking waves.
On the Deepblue, opportunity is in every direction, and sinking your ship is just the start of another adventure!
David Evans
David fell in love with game development at a very young age. All it took was his dad showing him a very simple program that drew colored circles to the screen, and how it could be manipulated by editing the code. The quick feedback loop of editing code--and then seeing it happen on screen was endlessly entertaining, and David made countless tiny games using various tools throughout his childhood and into early adulthood.
After learning how to make games 'for real' at the game development school Digipen, David went to work outside the games industry at Microsoft, but continued to make games as a hobby. With a couple close friends, he released his first commercial title which went largely unnoticed. Undeterred, he began a new sailing prototype which would grow over the years to become Sail Forth.
The Quantum Astrophysicists Guild
We've always been indie, and we want to give indie studios the deals they deserve. The Quantum Astrophysicists Guild was founded in 2011 and received global critical acclaim for our early titles, 'The Bridge' and 'Tumblestone.' In 2019, we broadened our focus to collaborating with indie developers publishing on PC and consoles to provide opportunities on every platform available. Recently publishing 'Space Otter Charlie' and 'Cozy Grove' further expanded our library, adding action adventure puzzle platformers and slice of life games to our catalogue. Look forward to award-winning donut puzzler 'Freshly Frosted,' which is currently being developed in-house.
Awards & Recognition
Best Action Adventure Dreamhack 2019
Official Selection EGX Rezzed 2019
Official Selection Indie Megabooth 2019
Official Selection Seattle Indies Expo 2019
Logo & Icon
download logo files and screenshots as .zip