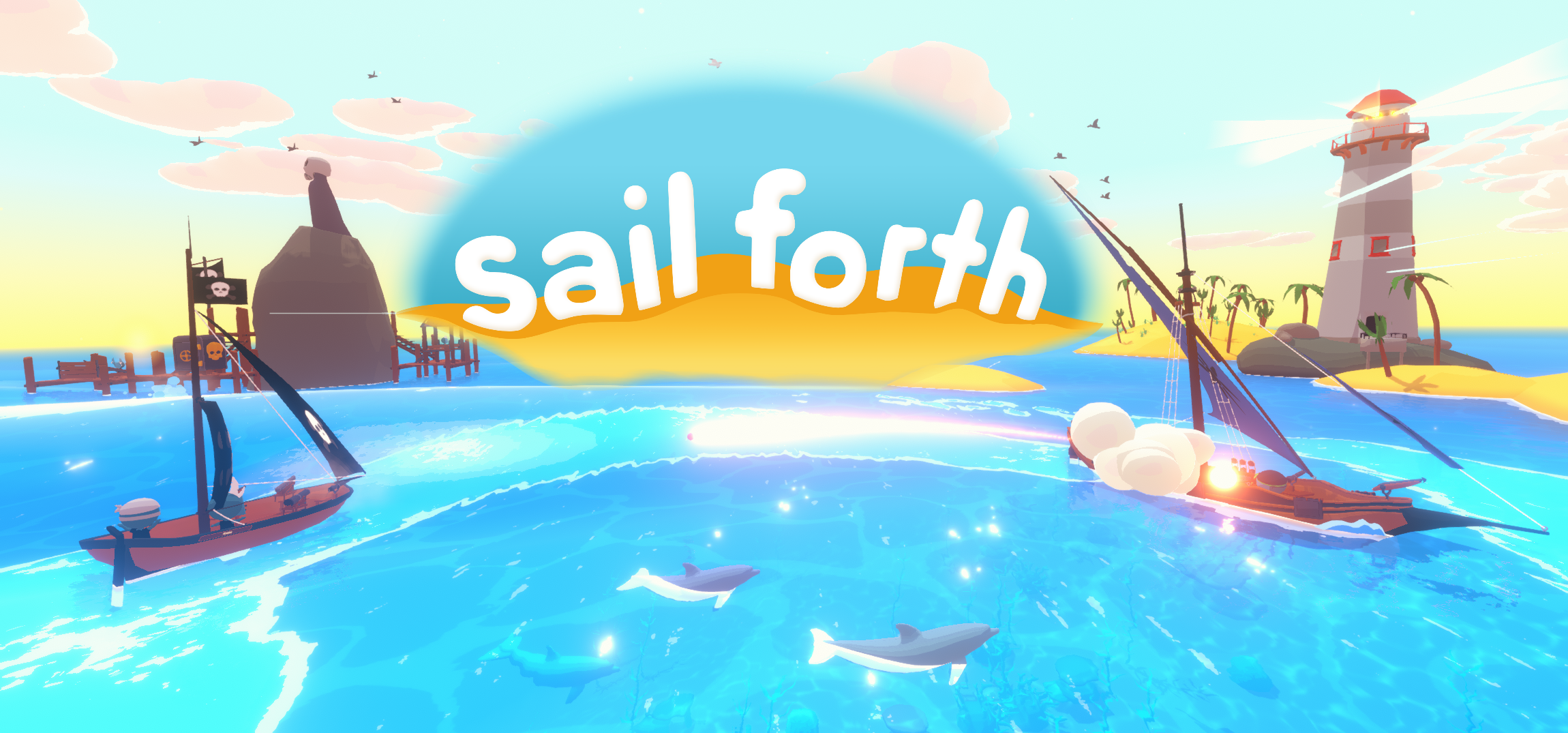 Factsheet
Developers:
David Evans
Based in Seattle, Washington
Publisher:
The Quantum Astrophysicists Guild
Based in Seattle, Washington
Release date:
2021
Website:
sailforthgame.com

Press / Business Contact:
press@qag.io

Social:
twitter.com/sailforthgame

Pricing:
$14.99 USD
£11.84 GBP
€13.44 EUR
$20.13 CDN
Platforms:
Steam (PC/Mac/Linux) Nintendo Switch Playstation 4 Xbox One
Languages:
English, French, Italian, German, Spanish, Hungarian, Dutch, Portuguese, Russian, Turkish, Czech, Swedish, Norwegian, Danish, Finnish, Polish, Japanese, Simplified/Traditional Chinese, Korean, and Thai
Description
Heave! Fake the bull rope and stay the mizzen royal! Command a fleet of custom-rigged sailing ships on a procedurally crafted adventure over an unending ocean whose ancient depths have swallowed the key to a planet's mysterious past. The Deepblue calls with the bellow of High Adventure! Sail Forth!
Features
Never The Same Island: Procedurally generated islands means every level is a new experience. Each containing their own flora and fauna and ambient soundtrack.
Make Your Boat Your Own: Pick your own design and colors for the sails of your boat and unlock new designs as you play. Equip the boats in your fleet with a variety of weapons and equipment to modulate their capabilities.
Each Journey is Unique: Each play-through is set in a uniquely generated map filled with islands of various biome types. At each location, complete one of many types of quests, from stealing treasure from a Skull Clan fort to rescuing a friendly sailor who ran aground.
Stylized Physics: The sailing physics are based on real buoyancy and wind force calculations. Custom tweaks to the physics keep the game casually playable and not overly simulation focused while retaining real sailing concepts.
Build Your Fleet: Find new boats as you progress and add them to your fleet. Quickly swap control between the boats in your fleet, and give simple orders to the AI crew manning the boats you aren't sailing directly.
Naval Combat: A multitude of weapons are available to engage the Skull Clan ships and other dangers at sea. Keep track of the wind while in combat to avoid losing your positional advantage.
David Evans
David fell in love with game development at a very young age. All it took was his dad showing him a very simple program that drew colored circles to the screen, and how it could be manipulated by editing the code. The quick feedback loop of editing code--and then seeing it happen on screen was endlessly entertaining, and David made countless tiny games using various tools throughout his childhood and into early adulthood.
After learning how to make games 'for real' at the game development school Digipen, David went to work outside the games industry at Microsoft, but continued to make games as a hobby. With a couple close friends, he released his first commercial title which went largely unnoticed. Undeterred, he began a new sailing prototype which would grow over the years to become Sail Forth.
The Quantum Astrophysicists Guild
The Quantum Astrophysicists Guild was created in 2011 by Forbes 30 Under 30 inductee Ty Taylor. QAG's first game, 'The Bridge', was released in 2013 to major critical acclaim, being featured in numerous game competitions and festivals around the world, including the PAX 10, IGF, the Indie Game Challenge, Unity Awards, and many more. QAG's second title, 'Tumblestone', was released in 2016 with a Metacritic score of 91, and was also a winner of the PAX 10, Intel Level Up competition, and more. Each of QAG's games to date has over 2M downloads across all platforms. In 2019, QAG announced that it will be publishing third-party indie titles, leading with 'Almost There: The Platformer', which was launched on February 19, 2019 on all platforms. After 'Almost There: The Platformer' was released QAG signed 'Deleveled' and 'Sail Forth' both titles from the Seattle, WA area. QAG is also developing their next in house title 'Freshly Frosted'.
Awards & Recognition
Best Action Adventure Dreamhack 2019
Official Selection EGX Rezzed 2019
Official Selection Indie Megabooth 2019
Official Selection Seattle Indies Expo 2019
Logo & Icon
download logo files and screenshots as .zip